Nature is quality in its highest form
Amidst the undulating vineyards of the Überetsch valley, on a sunny slope above St. Michael in Eppan, a gravel road leads through the vineyards to Hof Gandberg. The view says it all. Hof Gandberg is the source of 'Thomas Niedermayr' wine estate. It is here that grapes ripen and find their way into the cellar and bottles.
Anyone specialising in natural wine production has to accompany the wine all the way. Only so doing can you influence the quality of the resulting wine at every stage in the process. Only so doing can you become one with its temperament and guarantee absolute purity. After all, nature is the highest form of quality.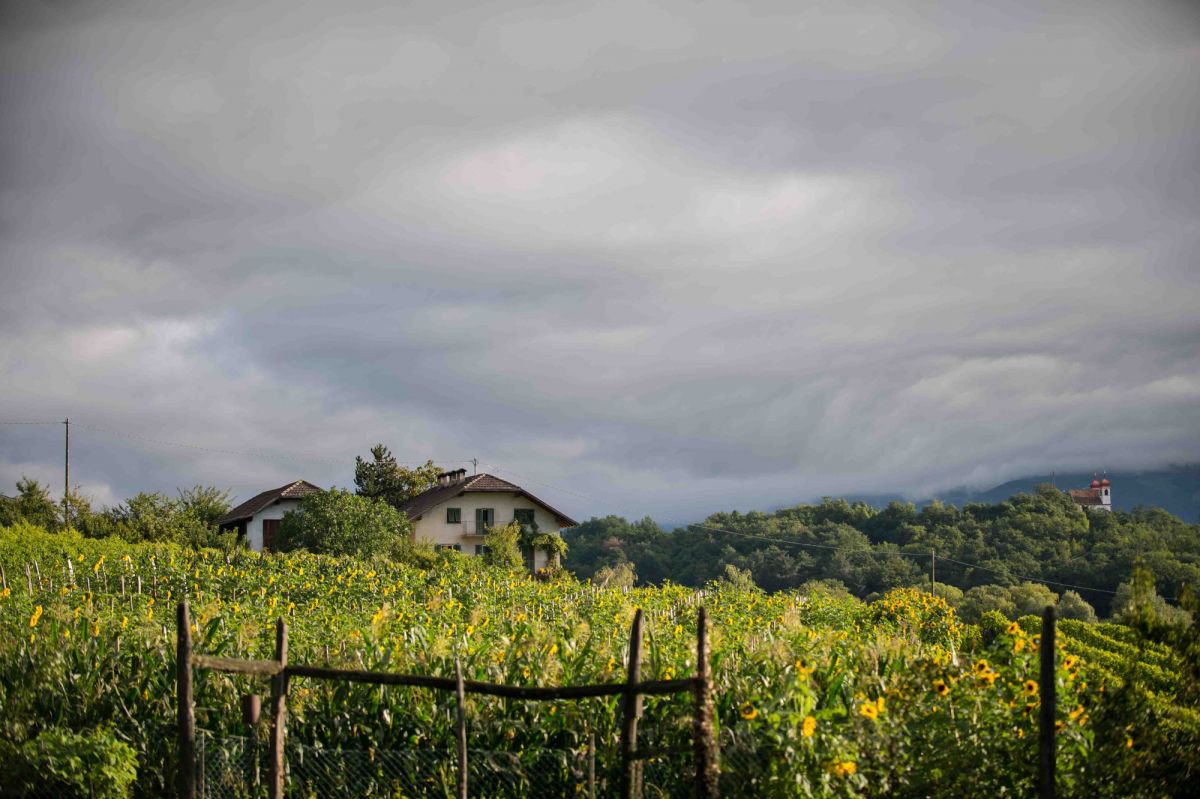 For Thomas Niedermayr the process begins at the source. In the soil. With Mother Nature herself. Only healthy and living soil can produce robust and vigorous plants. Walking around Hof Gandberg, you come across Indian runner ducks, chickens, lovingly planted beds teeming with vegetables and herbs and a proliferation of plants between the vines. Every plant here is literally crying out biodiversity! And you can feel it, too.
Our estate, Hof Gandberg, offers me the ideal environment for creating authentic natural South Tyrolean wines of strong character. Ecological farming methods guarantee sustainability and the highest possible quality – because first-class wines can only grow in a healthy environment.

Thomas Niedermayr
The vineyards located around the farm at 500 to 530 metres above sea level are influenced by the specific climate of the 'Ice Holes' and by 'Gandberg', which stands out as an impressive rock formation in the background. This means that the wines growing here are distinct thanks to their striking freshness and vivacity. PIWI varieties mean that chemicals and artificial substances can be dispensed with. And experience, empathy and passion mean that nature is allowed free range.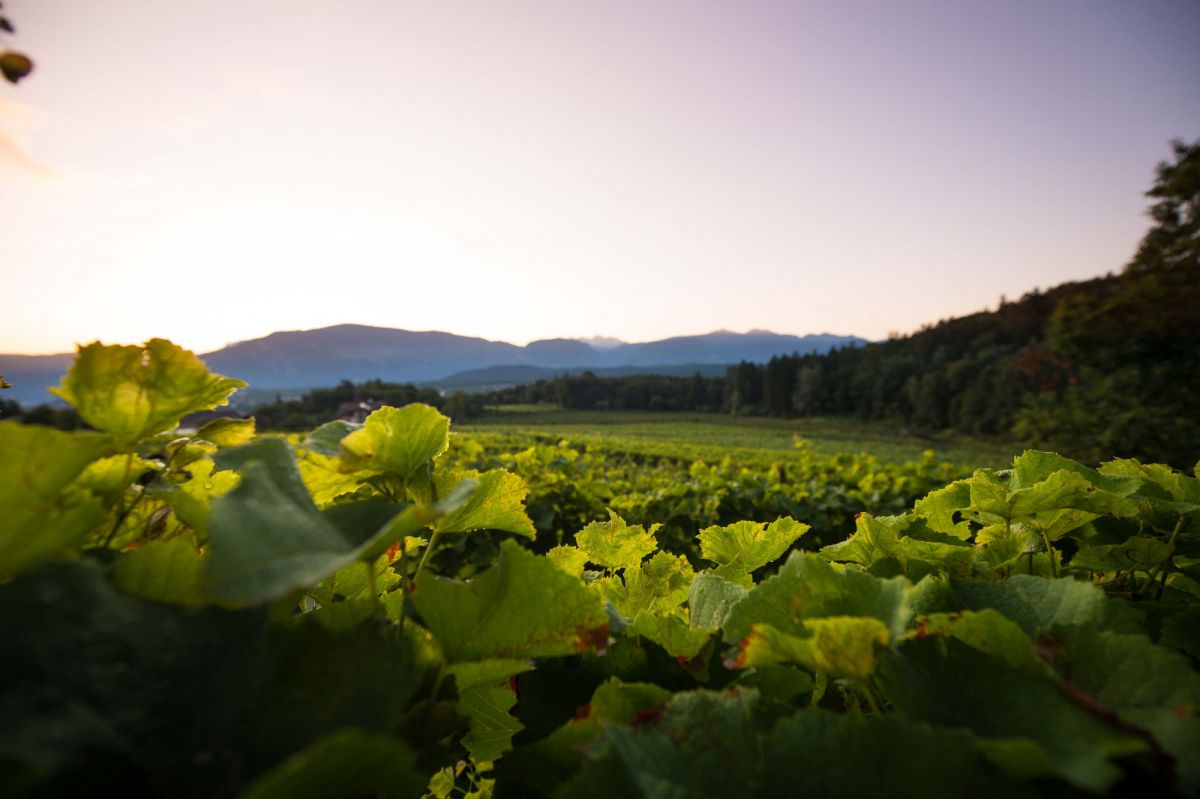 Wine – the next generation
"Healthy things can only grow in healthy surroundings" was always the conviction of Rudolf Niedermayr, Thomas' father. Farming in harmony with nature – that was his visionary decision. He put this aim into practice with great passion and to an almost revolutionary extent: as far back as the mid-1980s he transmitted this mentality to cultivating his wine and switched to organic farming.

It meant more to him, however: it was about a comprehensive organic farming cycle with fruit and vegetable crops, livestock and the important element of wine growing. It was about biodiversity and sustainable economic cycles carried out by the whole family. Hof Gandberg has been a Bioland member since 1991 and since 1993 wine has been pressed there, too. From that moment on it was possible to accompany the whole process of wine-making, from the grape to the bottle. The farming cycle was complete. And it was based on the cycle of nature. Son Thomas gradually got involved in the business after 2010 and took over managing it in 2012. It was his vision to let nature do its thing in the cellar too.
This means that we create wines that are particularly expressive and that are simply fun.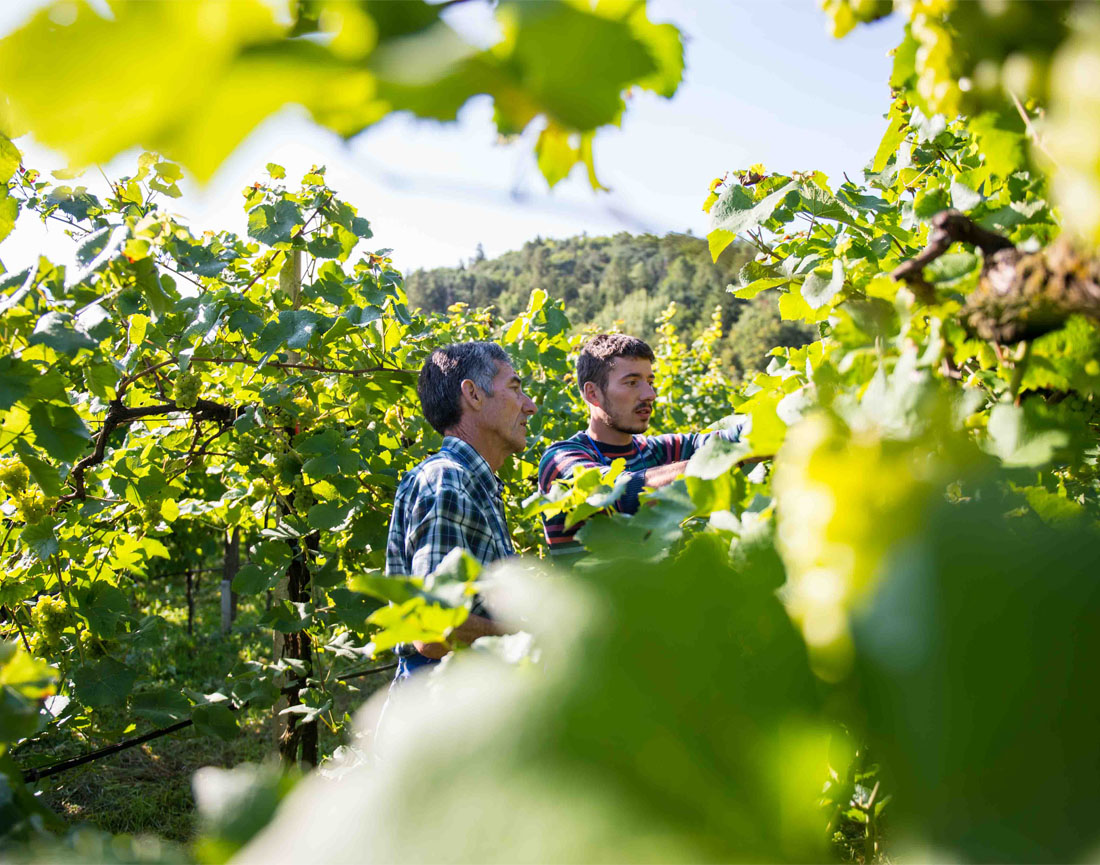 Inspired by nature, part of family life
"Our basic conviction is to farm Hof Gandberg in an ecological and sustainable manner. This is why we place importance on a comprehensive farming cycle that is family-run. We pursue an alternative and sustainable concept which focusses on our values rather than on maximisation of profit."

Familie Niedermayr
Like father ...
"Maybe it's simply to do with the fact that you suddenly start thinking further ahead when you become a father. There were 6 of us children on the farm. Father Rudolf taught us his views and values very early on." When Thomas talks about his father, he talks of his father's conviction that the way that we treat nature, which allows us to create things, plays an important role.

However, knowing how to listen to your conscience was a skill that his father had to acquire, as anyone who is a pioneer has to teach themselves a lot of things. Rudolf thought ahead. Thought up alternatives. In 1991 he joined the Bioland association. In those days not many people believed that organic farming could work.
… like son.
Today Thomas, the son, manages Hof Gandberg. Together with his father he developed new ideas over the years, worked with him on them, and gained experience and knowledge at like-minded farms in other regions in order to reach this conclusion: not just organic, but natural! "The feeling I get when I am not 'just' standing in the vineyards working, but in the midst of nature that has the right to remain untamed, is something that I wanted to carry over to the cellar. Letting the whole process of wine production – from the grape to the bottle – unfold naturally is a wonderful challenge. 'Thomas Niedermayr' wines are top quality wines because of their imperfections. When you can tell from the taste that wine is pure and has been produced by hand, then it has charisma. Wine should be allowed to reflect its vintage and tell its story."
Thomas recounts: "Our mother lived out our father's conviction. Mainly in the kitchen. Conscious eating was fundamental for her, and this was way before there was a tendency for society to rethink its attitude. We ate wholewheat products and home-made bread. We lived in a simple, but healthy way. And we were happy. When others went on holiday to the seaside, we'd spend our holidays playing in the woods. At the time I didn't always realise it, but now I know that we had the best possible diet and upbringing. I know this because I believe I would do the same today. Lots of things that I am able to see on Hof Gandberg today have their origins in our family values."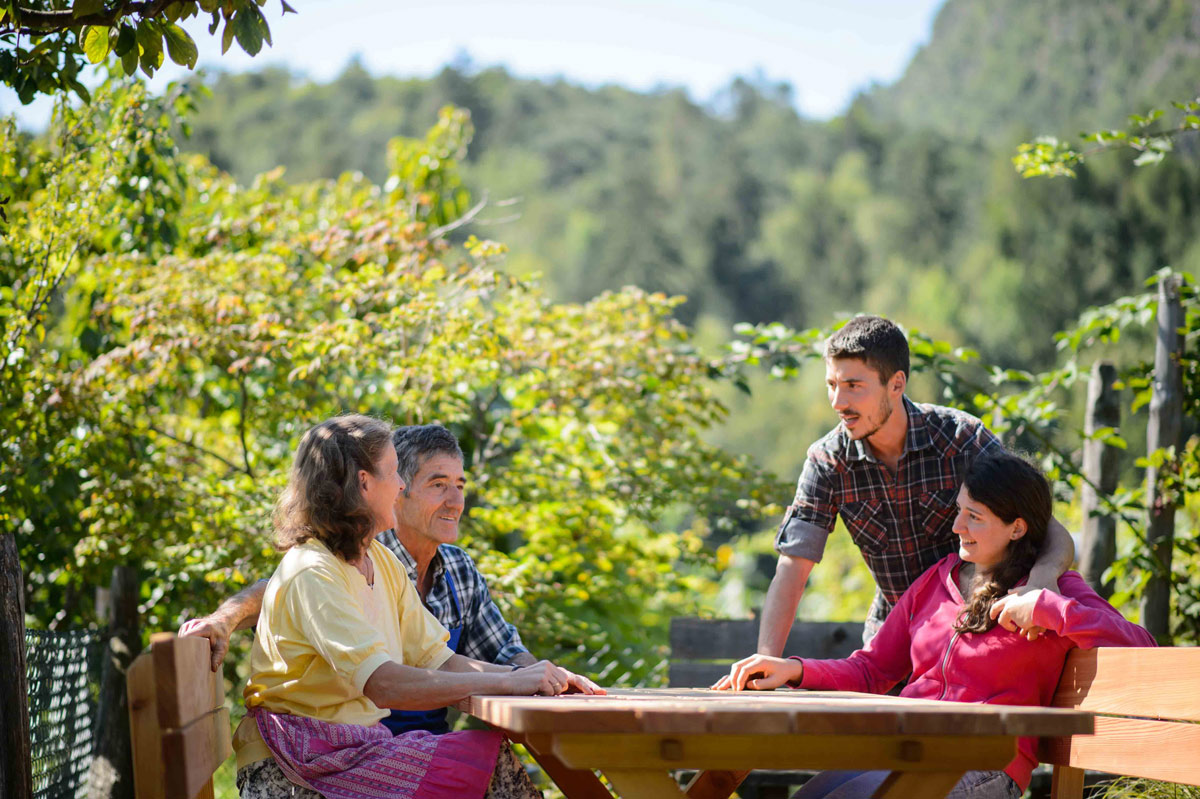 What kind of person are you, Thomas?
"I am a down-to-earth kind of person whilst being a bon-vivant at the same time. I enjoy the simple and natural things in life when it comes to my work, diet, and free time. I am also a perfectionist. I like things that have been thought out and seen through to the end and I apply this to myself and my wines. The wines bear my name, after all."
What do you especially love about your work?
"I work with and in the midst of nature. I am a part of it. I learn from it every day and can accompany its creation on the way to becoming a top quality finished product."
Why natural wine? What was your incentive?
"Organic wine cultivation at Hof Gandberg has been carried out for 25 years. The incentive for taking the step from organic wine to natural wine was my passion for nature and the high quality products that it yields. It is my wish to apply this naturalness to the wine-making process, which means in the cellar, too. This is a wonderful challenge – I have to respond to nature and the temperament of the wine completely, demonstrating empathy, stamina, a thirst for knowledge and ambition in order to accompany the product on its way to perfection. I always learn something new in the process. Always. And that is a real incentive."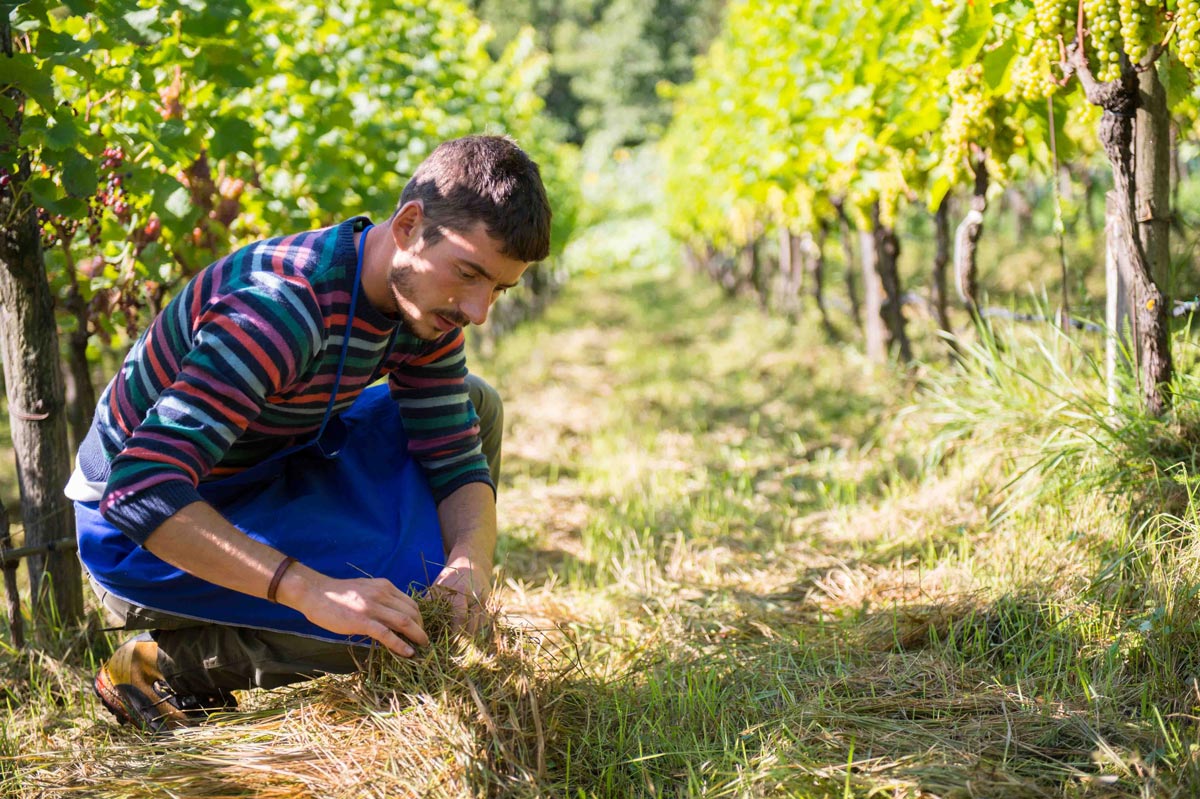 Which step in the wine-making process do you find especially exciting?
"The moment after the harvest. When the hand-picked grapes make their way to the cellar and I wait for them to bubble in their own totally natural way – without any use of additional substances. This means that fermentation has begun. Sometimes it happens after just one day. But once I waited a whole 10 days for this moment. The tension was unbearable. I was the first to run to the cellar every morning to see if something was happening!"
What sets Thomas Niedermayr's wines apart from the rest?
"I am totally committed towards making Thomas Niedermayr wines exude the things that accompany and guide their production process: quiet and relaxation, depth and the power of nature, ease and pleasure in enjoyment."